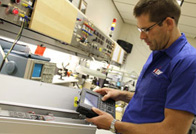 S & D Spinks Ltd. ( SPINKS ) is a company that specializes in the testing, repair and restoration of fire and flood damaged electrical appliances i.e. IT eqpt, Audio Visual eqpt, domestic appliances etc..
Based in Longridge, Lancashire, we have a team of engineers who have successfully tested, repaired or restored over 10000 damaged electrical appliances for numerous insurance companies over the last 10 years, with a success rate of over 95%.
This process of restoring damaged electrical appliances instead of automatic replacement or cash settlement also helps insurance companies combat fraudulent claims and is also environmentally friendly as it limits the disposal of replaced appliances.
Working closely with insurance companies, loss adjusters and fire / flood restoration companies, we pride ourselves in offering a competitively priced (restoration fee is usually 50% of replacement price), professional, efficient and reliable service to all of our clients.
For more detailed information of all of our services, please refer to the relevant page.
Testimonials
Scott Elliott of Rainbow International Fire and Flood Restoration Company
'Spinks have provided all our electrical engineer requirements for the last 10yrs. Their service levels, technical knowledge and communications with both our staff and our clients is excellent, nothing is too much trouble.'